IN SEARCH OF MERCY
Winner of the 2009 PWA Best First Private Eye Novel Competition
and PWA Shamus Award for Best First Novel of 2010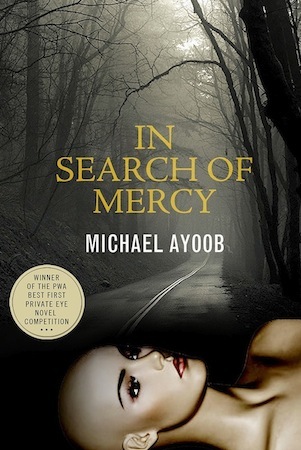 Some stars fade, and others fall.
Mercy Carnahan became a black hole.
Dexter Bolzjak is an ex-hockey goalie who was abducted and tortured by perverted sports fans eight years ago. Now he's muddling along in a Pittsburgh warehouse when he meets an old terminally ill drunk named Lou Kashon. Lou wants to see his lost love, the actress Mercy Carnahan, and offers Dexter a fortune to find her.
Dexter embarks on the search, retracing Mercy's past online and on foot. Mercy begins to haunt Dexter, appearing in his dreams while his own trauma plagues his waking hours. Dexter persists and follows Mercy's trail into a voyeuristic underworld, where he finds himself trapped in the ultimate nightmare.
AMAZON
BARNES & NOBLE
GOOGLE
REVIEWS
Mercy may not be for everyone,
but she does have her fans.
The Gumshoe Review: "Michael Ayoob is quite the master of the macabre... A unique blend of psychological horror and private investigative work, In Search of Mercy is highly recommended for mature mystery fans."
Killer Books: "Ayoob's writing is smooth and assured and he's got a good eye for character, place and atmosphere. He's also got a great sense of story."
MBTB's Mystery Book Blog: "I think this book defines the direction of modern noir... Ayoob's writing has punch and he gets an "A" for creativity."
The Mystery Reader: "Mr. Ayoob expects his readers to think. He moves from the real world to the surreal to the dream world with fluidity that demands the reader's attention. The author has something to say but he is not about to spoon feed his audience... While it is not an easy journey, the mental effort is worth the trip."
Mystery Scene: "The rundown, rusted glory of a dying steeltown is the perfect backdrop for this surprisingly moving tale of broken dreams and broken lives, pain and healing, and ultimately, desperation and courage."
Pittsburgh Quarterly: "Author Michael Ayoob's homage to the graphic violence of classic hard-boiled detective fiction, as well as the 'weird menace' of mid-century pulp fiction, is polished and pitch-perfect."
Publishers Weekly: "Ayoob's outstanding debut introduces a flawed hero who transcends all the flawed hero clichés... Filled with vivid, violent images and characters who leap off the page into the reader's imagination, this impressive novel builds to a startlingly ambiguous ending."
MEDIA
This was my big, splashy debut, and I was willing to talk (and talk) about it.
THANK YOU
for your kindness and support during the time of Mercy's release:
The bookstore owners and employees who hosted my tour stops; the librarians who invited me to speak.
Jane Bernstein and Gerry Constanzo for bringing me back to CMU.
Gerard Tonti, who designed the original stand-alone site for Mercy in 2010 and did a wonderful job.
Everyone who came out for the tour, all the amazing folks I met at Bouchercons 2009-11, and the readers who felt compelled to drop me a line. You made the entire grind worthwhile.